Laszczyk's manor in Kielce
Laszczyk's manor in Kielce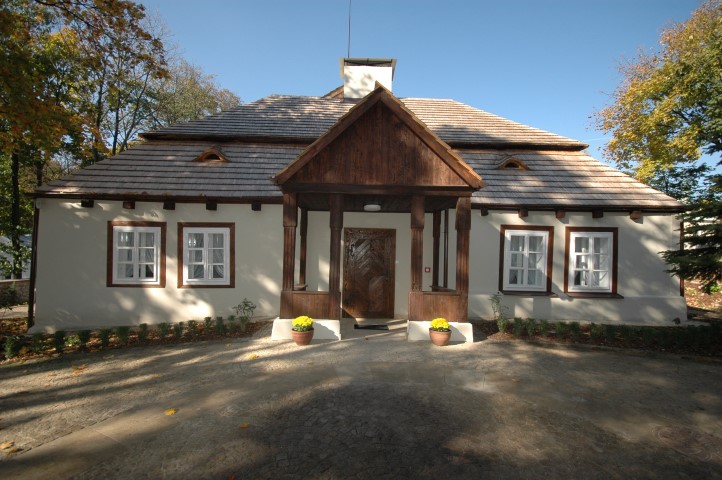 Located on the southern slope of Wzgórze Zamkowe (Castle Hill) at 6 Jana Pawła II Street, behind a wooden, shingle-covered fence, moved back into the property. It belongs to the most valuable monuments of Kielce not only because of over two hundred years of history, but primarily due to the fact that it is the last wooden object of this type in the city.
Built by Jakub Jaworski, the last episcopal staroste, in a leased area under the contract of March 7, 1788 concluded with Fr. Jerzy Dobrzański, canon of the Krakow cathedral, dean of the Kielce Collegiate Church.
Until the 1970s, it was in private hands, and then it housed the headquarters of the Healthcare Center. In 1988, it was handed over to the Kielce Countryside Museum for administrative and exhibition purposes.
Originally, on the property there was a manor house and outbuildings, and the whole was a city residence, by definition, similar to the canonical buildings located on the Wzgórze Zamkowe. According to archival descriptions from 1838 and 1848, the wooden, one-story manor house was built of larch, on a foundation of burnt brick and lime stone. From the garden to the wooden part, two stone granaries were added.
The manor house was covered with a high hip roof, covered with a single shingle, with a porch on the front, behind which there was a dark hall. The building consisted of four rooms.
In the south-eastern corner of the property, stood a second house, facing north - a residential outbuilding, a cowshed was added to the outbuilding from the west, and further two latrines and a woodshed were located.
In the north-eastern part there was a coach house, stable and a potting shed. They were one-story wooden buildings, covered with shingles. At the front the area was a fenced by fence with an entrance gate. At the end of the 19th century, the manor house was expanded. Today, only the manor house has survived on the property.
Currently, administrative rooms are located at the back of the property, and the interiors of the manor were earmarked for exhibition purposes.
Thanks to EU funds, the building was renovated and modernization works were carried out throughout the property.